I was privileged 
on Sunday
 to perform a concert to benefit the Lumberton Christian Care Center in Lumberton, NC as they began to realize their dream of building a facility that will provide shelter and much-needed support services to homeless families in one of the poorest counties in North Carolina, including mothers with children, a growing population where most shelters are able to take only men.  Once this facility opens, their next goal will be to provide counseling and job preparedness/placement services.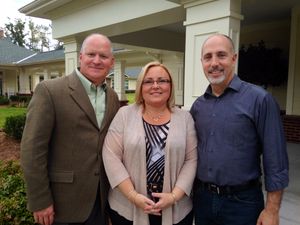 My hosts were Lisa Lee and Kenneth Rust, two of the first to respond to our "Prepare to Share" campaign.  That means they gave two gifts at once; by supporting our efforts they provided the program to benefit this vitally important and compassionate ministry to people who are falling through the cracks.  When I ask Lisa what inspired all this generosity, this is what she said:
"Kenneth and I use 2 Cor. 

9:11

— Be generous on every occasion so that your generosity will result in thanksgiving to God— as our guide and seek to be, as that translation of the verse says, "so that" people.  One of our companies is even named SO THAT as a reminder that what we have is really not ours and that with financial success also comes additional responsibility.  We try to use what we have creatively so that it will cause others to recognize the goodness of God.  There are lots of opportunities to do this both in our professional and personal lives."
You can't help but notice who ultimately receives the "thanks" in that passage.  All this is a beautiful example of the way our offerings can produce exponential good when we first ask not "how can I do good?" but rather: "what is God doing and how can I be part of it?"  
Does their generosity inspire your own?  If so, checks may be sent directly to them at: 
Lumberton Christian Care Center
PO Box 1712
Lumberton, NC 28359
Lisa has asked that you reference "Kyle Matthews Benefit" in the memo line. Thank you!